iPad & iPhone Repair in Fort Worth Under The Plane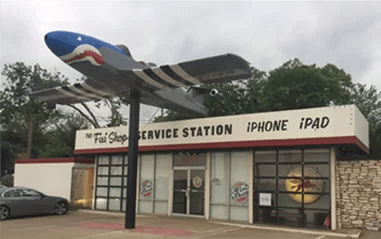 The Fixi Shop is located in the Fort Worth cultural district – UNDER THE Plane! – across from the New Dickies Arena and Will Rogers Stock Show Barns and catty-corner from the Cowgirl Hall of Fame and the Fort Worth Museum of Science and History. From I-30 (East or Westbound) get off on Montgomery Street and go North. Go one half mile and will be on your left hand side, across the street from the Dickies Arena . While you wait for your iPhone repair, there are many restaurants, bars and places to see, or just relax in our lobby. We are here to help you get it in, get it fixied and get it back in service!
1800 Montgomery Street
Fort Worth, TX 76107
MONDAY – FRIDAY: 10am – 6pm
SATURDAY: 10am – 5pm
(817) 301-0544
fortworth@fixishop.com
We unknowingly arrived after hours and Jimmy acted like they were still open. He spent about 30 minutes trying to figure out the problem with our phone. We took it somewhere else before coming here and they said it was fried. Jimmy got it to come on and retrieved the data as well. Amazing!!! These guys are so smart, professional, and courteous. He didn't even charge me! I'll never go anywhere else.